When Top Down Hits, It Hits Bad
Once upon a time, I made all my sweaters in pieces, casting on at the bottom rib and knitting to the neck, then sewing all the pieces together to produce a final garment. The only problem with this method is that I absolutely detest sewing up and many of my completed projects sit waiting to be sewn up for weeks, even months, before I actually get round to doing it.
I had read about knitting in one piece from the bottom up, but the thought of all those stitches on the needles ~ and horrible twisty, metal circular needles at that ~ made me shiver. I steered well clear.
But I spotted the February Lady Sweater that was very popular with internet-connected knitters last year and I knew I had to try it. But it was knitted top down, starting at the neck. I knew I had to take the plunge and after a few weeks I had finished this: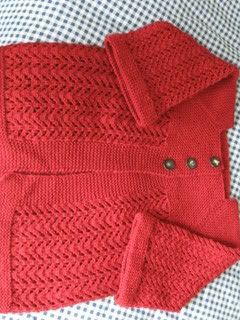 Best of all? No sewing up!
My interest had been piqued. Over Easter I was drawn to cast on for my very own Liesl that I knitted in about ten days, from the top down, and again,
no sewing involved at all
in piecing it together. Okay, there were ends to sew in, but that's by the by:
And then I happened upon the Chevron Lace cardigan that was *gasp!*
crocheted
from the top down. I couldn't resist such a challenge and I produced this little number: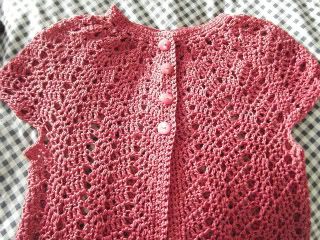 Not only top down but my first ever crochet garment.
And I have been besotted with top down knitting ever since. I've been trawling the net for top down patterns, I've been trawling Amazon for books with top down patterns, I've joined a top down Knitalong and
I'm totally in love with top down!!
My current project, in case you're wondering, is a raglan cardigan with short sleeves that I'm knitting in an acrylic mix aran yarn. And yes - it's top down!