Crochet Excitement!
I completd my first ever crochet garment whilst I was on holiday recently and have definitely caught the crochet bug... but the patterns I've found so far online have been less than appealing to say the least :(
Until yesterday evening.
I'd already found Interweave Crochet magazine at Get Knitted and planned on buying a couple of back issues; Pictish had also recommended the mag, so that was my plan. Then I realised that I could buy individual patterns from the magazine via the Interweave website. Result!
Here's the garment that started my mad-crochet-pattern-search, it's the Chevron Lace cardigan. Worked in one piece from the top down in a lovely chevron lace pattern (hence the name I guess!) and a very economical project as it only used 2.5 balls of Patons 100% Cotton DK :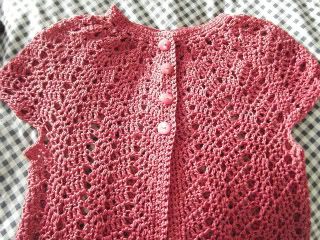 I should try the Big Bow cardigan (but without the bow) as apparently it's fairly straightforward, but I quite fancy trying my hand at the Butterscotch cardigan as it's my kind of thing. Will it be too difficult for a novice crocheter? Time will tell!