I've Got Start-itis!
Q: What do you do when you want to start everything and your current WIPs are not encouraging your knitting mojo?
A: Cast on something new!
I trawled through some of my stash yesterday afternoon after Mr Melody had thrown half of it down from the loft (I can't get up into the loft - Melody and ladders don't mix too well unfortunately) and happened upon stash that I knew I had but had half forgotten. Does that make sense? I haven''t bothered to photograph my stash for Ravelry - I just don't have that much spare time on my hands - but have kept an Excel speadsheet for my yarns for well over ten years now. So I do know what I have but occasionally the lure of new and bargainous yarns on t'internet leads me astray. I say occasionally, who am I kidding? LOL!!
I found, okay went looking for, some vintage Patons Pioneer DK in a grey and cream mix that I thought would look great knitted up in one of the designs from the new Sirdar Eco wool booklet and last night I cast on and almost knitted the rib. I was sidetracked somewhat as I was watching Bill Bailey on Sky and kept miscounting my stitches cos I was laughing so much!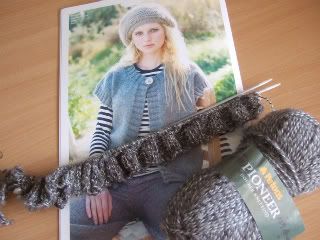 But I digress... I 'found' so much yarn that I wanted to cast on projects with that now I have a severe case of start-itis. I want to cast on for a couple of sweaters for the Melody boys, a few scarves with yarn that I've been sent in swaps, the one button cardigan in Sirdar's Relaxed Living booklet with an array of arans, the cabled slipover top from the new Sirdar Tweedie booklet and a feather and fan cardigan using Silky Look.
Do I have enough needles to cast on for everything at once?