Sparks Fly
off the sewing up needles and I've sewn up (don't faint Dreamcatcher and FatCat!! lol!!):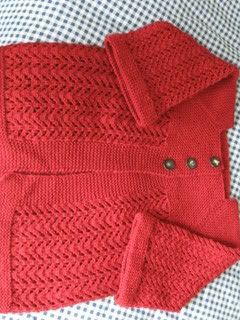 or rather darned the ends in of my February Lady Sweater. Knitted in Wendy Aran with Wool in a lovely, deep red shade called Venetian Red and fastened with horn buttons from my button stash. Took bang on 400g of yarn - I only had about 30cm left after the final cast off! Eeeep!
AND....
Ta Da!! The Sirdar hoodie from Simple Easy Knits booklet, design F. Adapted for the knitting machine and knitted really quickly. The downside being that it's taken .... err..... months to sew up... proving that you can't rush a good thing!